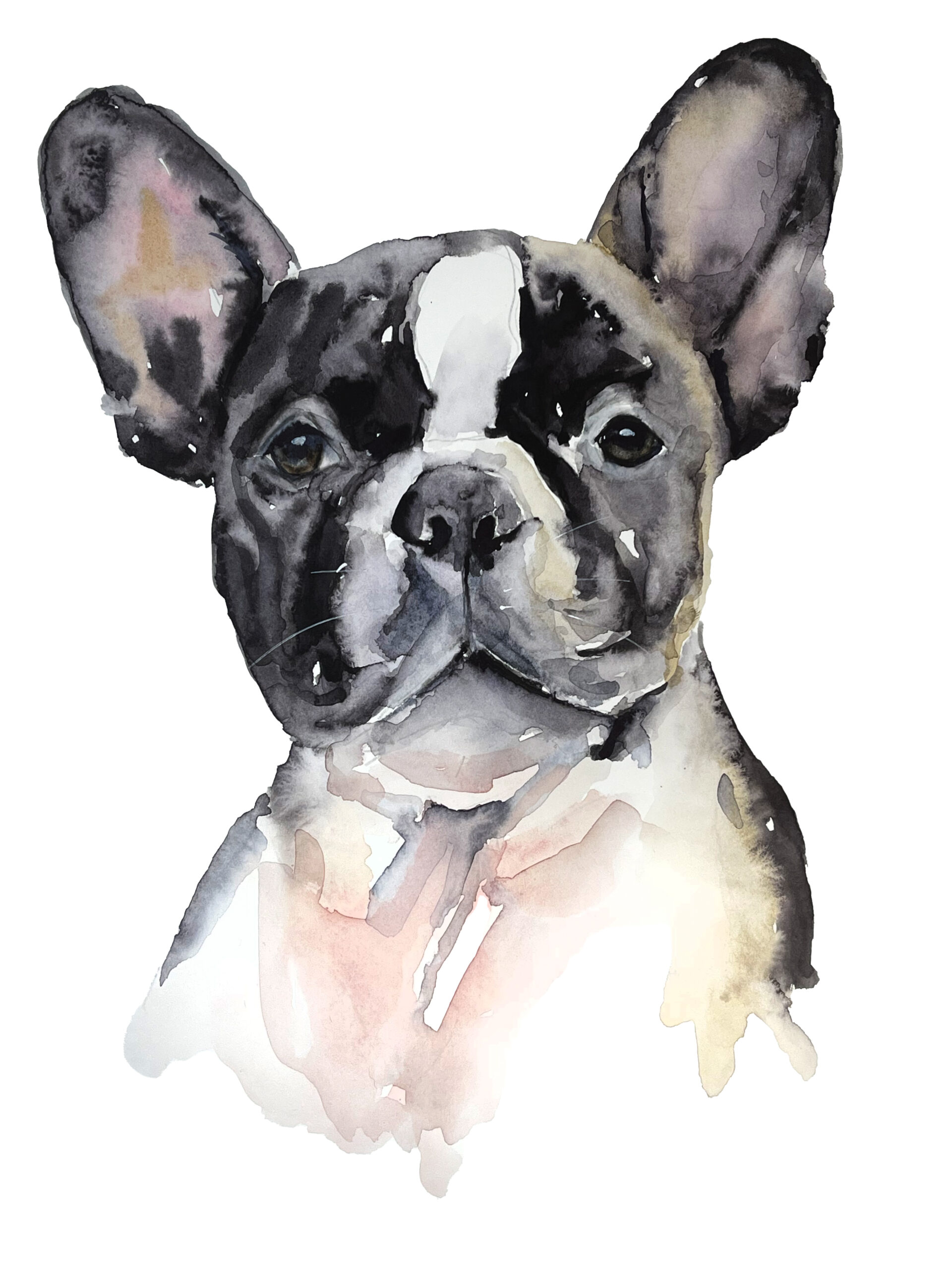 Immortalize your pet with genuine artwork.  Most of todays pet portrait companies offer digitally enhanced photos, literally a filter in photoshop, applied to a photograph you submit.  My paintings are hand painted with professional watercolour paint on professional watercolour paper, I bring to life the soul of your pet using this timeless and challenging medium.
Decide which style you would like.  Digital Oil or Traditional Watercolour. See below for samples of each.
Once you decide on the style of painting you would like, you can purchase that style of painting in the size you would like.  Please be sure to check your junk mail folder if you do not see the automated purchase reply that contains instructions on sending a photo or photos for your custom Pet Portrait.
If you wish to order this as a gift for someone you can also choose to order a gift certificate.  Learn more about pet portrait gift certificates here.
My digital oil paintings are made using Procreate using my own custom-made brushes.  I am trained in traditional oil painting and spent years mastering the medium.  Using Procreate for digital oil painting allows me to bypass the mess, strong and toxic chemicals etc and focus on making beautiful art.  I have little doubt that if the Ipad and Apple pencil were around in the 16th century well-known artists like Caravaggio would have embraced these tools.  Artists at that time used drawing aids, assistants for mixing paint and any other method they had at their disposal to improve their craft.  We live in a wonderful time where you can carry your entire studio around in the palm of your hand and create whenever and where ever you like with the same results as the Old Masters we know and love.
My Pet portrait oil paintings, like my traditional watercolour and digital watercolour focus on a portrait, I try to capture a painting that will engage with the viewer and bring the character of your beloved pet to life.
I have been painting with watercolour for over a decade at the time of this writing.  It is by far the most challenging medium I have encountered in my art career and that includes spending two years mastering the zone system in photography in the early 90s!  ( See Ansel Adams to learn more about that laborious task.
Watercolour is fluid and unpredictable it is a joy to paint certain pets and a nightmare to paint others.  These are more expensive because they take the most amount of time, mistakes can't be fixed and hold the record for the most number of "do-overs"
I prefer to paint these for people that LOVE watercolour, those who can really appreciate what goes into these paintings.  A watercolour pet portrait will last centuries with the artist-grade pigments and paper I use, something to be cherished – old-school art!
You can click the image below to purchase your pet portrait!  Please be sure to check your junk mail if you do not see the automated message in your inbox.  All the instructions you need will be in that email.  Of course, contact me anytime with any questions or concerns