Imelia's Black Bean Coffee
An assignment in a small provincial region of the Philippines to help a local coffee producer develop her brand, and learn digital marketing and content creation.
Read More
( Above, are just a few examples from the various campaigns we created.  Click each to see a larger version )
Increasing the value of a brand.
Imelia's Black Bean Coffee finds its home in the charming provincial town of Magallanes, nestled in Cavite, The Philippines. Due to limited accommodation options in Magallanes, I found myself lodged in the nearby tourist hub, Tagaytay. This town sits on the cusp of the Taal volcano and boasts the ubiquitous Starbucks that graces tourist spots across the globe. This prompts the question: What's the allure of Starbucks coffee? What sets it apart? Is it truly superior when stripped of the sugary frills? Why the stark difference in price compared to the local brew I enjoyed, priced at a mere 15 pesos? The answer lies in its brand. Starbucks epitomizes the power of effective branding. The moment I swung open the Starbucks door, I was greeted by an image: two young ladies sporting imitation designer sunglasses (even indoors) striking duck-face poses into their smartphone's selfie camera. Starbucks is essentially an exaggerated image, a concept of a lifestyle.
Now, how does Imelda, the brains behind Imelia's Black Bean Coffee, compete against this global juggernaut? How can she entice our aspiring socialites to choose her brew over the American brand striving to be Italian in the Philippines? Naturally, she'd engage top-notch marketing and advertising agencies to elevate her brand's value. But here's the twist: in a town where the average yearly income hovers around a few thousand dollars, such an option is off the table. Enter Catalyst Plus and the Philippine Department of Trade and Innovation – and here's where I come in. With a mere fortnight at hand, I'm tasked with helping Imelda level the field against corporate giants infiltrating her local community. Challenge accepted.
Step one: grasp her market, patrons, and production capabilities. Currently, she's operating at around a third of her potential capacity, based on her coffee plant count. A local store excursion revealed that instant coffee, with Nescafé reigning supreme, dominates the scene. Ah, an opening. No local coffee purveyors in sight. Campaign #1: Born in Magallanes. Building on the instant coffee competition – hailing from a land where instant coffee usually resides at the back of cupboards for emergencies – let's capitalize on this. Campaign #2: Greatness takes time. And what about her coffee's natural organic goodness? It contains nothing but finely ground, roasted coffee. To entice Starbucks aficionados, a touch of greenwashing alongside a splash of local pride seems fitting. Campaign #3: Organic, Local, Unadulterated Delight. Tying it all together with a string of Philippine holiday-themed posts seals the deal.
The game plan is set. But, hold on – does Imelda now need to grab her cinema camera, MacBook Pro, and snag an Adobe Creative Suite subscription? Not quite. Given that a software subscription alone could consume over half her yearly earnings, we must accomplish all this with just a smartphone and free software. Oh, and don't forget the need for consistent product photography. Time's running short – still holding that beer? I hope it hasn't warmed up.
Enter Imelda's membership in TIKME, an excellent local cooperative uniting farmers and small business proprietors. Two TIKME members willingly embraced the role of my creative apprentices. After crafting nearly a year's worth of Facebook posts based on the aforementioned campaigns, tweaking her logo to include the "Made in Magallanes" tag, and converting it into a vector format suitable for web and print, I trained the duo in leveraging Adobe Express to design compelling ads in diverse formats.
But that's not all. I devoted a day to teaching the TIKME community how to capture product photos and produced a brief video showcasing Imelda's coffee-making process.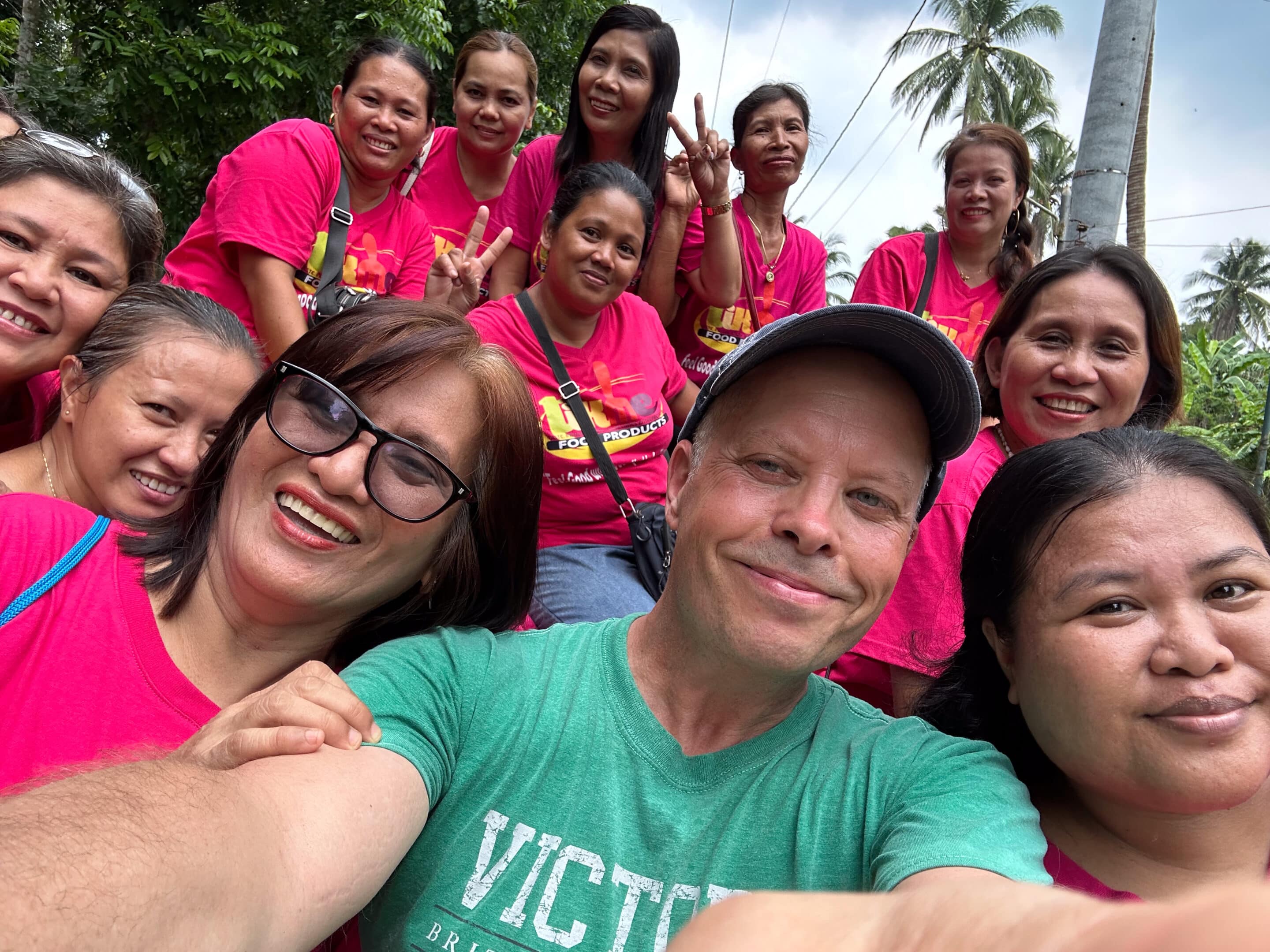 A great day teaching the TIKME group how to photograph their products.